His name is Gary, he loves cookies and is living his prison sentence aboard the Galaxy 1 with only robots as company. All he craves for is: a cookie, a game of cards and to be reunited with a lady called Quinn. Days before his prison sentence is over, he meets a green face-hugging alien he names, Mooncake: The CUTEST thing since, ever. However, Mooncake is wanted by the Lord Commander, an evil, pocket sized alien. This is:
RATED: 12 (UK)
WARNING:
Contains: Moderate violence, bloody images, sex references.
You may also find yourself obsessing over a small green face-hugging alien.
May contain spoilers
WHAT'S IT ABOUT?
Olan Rogers is a genius. Simple. Originally, the 7 minute pilot to Final Space was on Rogers' YouTube channel and caught the eye of producer Conan O'Brien. It's about Gary Goodspeed, a loveable idiot who done something silly for a girl and well, ended up on a prison spaceship for five years. Each episode begins with Gary floating in space alone around debris. HUW – the Galaxy 1's AI, tells Gary how many minutes he has left to live. E.g. In episode one, 'Gary, you have 10 minutes of oxygen remaining.' Gary makes some comment about it and the episode becomes a flashback. The only thing he wants is to finish his sentence and get back to Quinn: a lady who works for the Infinity who has very little interest in the guy who well (babbles on in head so not to spoil it.) He meets a loveable, green, face-hugging alien, who he names Mooncake. He is the cutest thing since… Pikachu. The only thing is, Mooncake is wanted by the Lord Commander: a pocket sized evil alien who wants this green loveable creature so he can enter Final Space and he won't stop at nothing to retrieve the little guy.
WHO ARE THE CAST?
Okay, okay, okay, let's start with the one you should all know really… The Lord Commander is played by David Tennant, known for his roles as 'The Doctor,' and Barty Crouch Jnr in Harry Potter and the Goblet of Fire. I was pretty shocked when I found out! Another well known actor featured on the show is Sons of Anarchy's bad-man, Ron Perlman who plays Gary's dad, John Goodspeed. Quinn is played by Tika Sumpter, who is known primarily for her recurring role of Raina Thorpe in Gossip Girl. I can't remember who that is and I have only just finished binging that, whatttt? Coty Galloway has a voice which I think needs to be on TV more. His is a lovely deep, heroic voice that fits perfectly for a man-cat warrior named Avacato! (Yes, that's his name.) He is, however mainly known for his YouTube projects but dude, seriously get yourself out there! The world needs that voice to be heard. As I do my research, I have just stumbled across a BIG NAME! Why did I not see it before, guys. Forgive me. So Avacato's son, Little Cato is played by… Steven Yeun… a.k.a Glenn from The Walking Dead!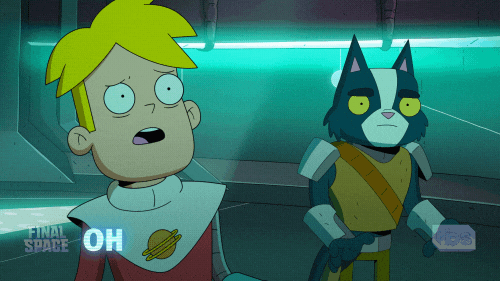 He is back from the dead and getting his revenge in little cat-man form. Other characters are some robots. One, KVN (pronounced Kevin) is that annoying friend you hate but kind of love in their own special way. And, the other, HUW, likes to keep the cookies away from you. (I need a friend like that!) They remind me of SpongeBob… oh wait, it IS SpongeBob (Tom Kenny) Wow, he sounds different in this show!
Finally, the genius that is Olan Rogers also does the voice of Gary and Mooncake. (Is there anything thing this man can't do?)
LIKES
Well first of all, it IS funny. Some parts can be so silly but it's the one liners that seem to come out of nowhere which is definitely a likeable factor of this show. The show also makes you feel, like truly feel, for the characters. You learn so much about them and you can't help but wanting to cry. It can go from being light hearted and then suddenly you have blast off into deep space and you are crying for these bunch of drawings. Gary's relationship with all the characters has been done so delicately well. You think he is a right cookie crumb until you see that really he is the chocolate chip. Also, Mooncake. If you haven't fell for the that cute little green ball by the end of the show, then you may as well join forces with that evil popsicle.
WILL THERE BE ANOTHER SERIES?
If you did click on the link featured in the caption of the group picture, you would have read that the show has been renewed for another season. I mean, you can't get enough of this show and it did end on a cliff hanger but that's my excuse for everything.
EPISODES
There are ten episodes which all equal to approximately 25 minutes. The titles of the episodes are simply:
Chapter One
Chapter Two
Chapter Three
Chapter Four
Chapter Five
Chapter Six
Chapter Seven
Chapter Eight
Chapter Nine
Chapter Ten
Have you watched Final Space? Are adult cartoons your thing? Also, what other shows shall I watch and review. Let me know in the comments down below 🙂
~
BABBLING MUMMY ~